So Easy a Monkey Can do it? - The SnapPower Guidelight
Our SnapPower GuideLight is an LED night-light that provides beautiful ambient lighting. It is a uniquely designed outlet cover plate with a built-in LED light.
The GuideLight replaces your existing outlet cover with one that draws power from your outlet using two interior arms with metal contact plates on the back of the GuideLight. The insulated prongs contact the bottom side screw terminals on the sides of your outlet and draw the power to turn on three LEDs on the bottom of the plate.
Are they difficult to install?
It couldn't be easier. You can install the SnapPower GuideLight yourself by removing your existing outlet cover and snapping on the SnapPower GuideLight cover and screw it back in using the same screws from your current outlet cover. No mounts, brackets, batteries or wires are required.
OUR ACTUAL CUSTOMERS
4,000+ 5 star reviews
Slick, clean design, easy install, great service!
These are pretty great! Obviously, the key selling point is the ease of install, and it is indeed pretty clever. A monkey with a screwdriver could do it in about 30 seconds (excepting the outlet centering issue, which I'll get to). But the design goes beyond the clever means of connecting to power. Overall, it is very slick, clean, and looks exactly like any other faceplate on your wall (which it should!). The light sensor IS visible, but much less so than I expected. Once you're standing a few feet away, you don't even notice it. A friend of mine put a few of these in as well, and I didn't even notice until I was standing close enough to the panel to set it off.The light quality is also great! I generally like things dark at night, and have never particularly needed nightlights. I installed this in the kitchen, and was happy to find that it was just bright enough to make it easy to grab a glass of water, but also didn't make it appear as if the room was permanently lit up - the quality of the light keeps it from reflecting around and illuminating the whole room, and rather just adds enough visibility to the area to allow you to see things. Aesthetically the appearance of the three LEDs glowing downwards is very appealing, too.

Great Product - Does what it says, and is easy
Installation was a snap (no pun intended for a Snap Power product). I had to jiggle the new cover slightly to get it to snap into place, but it went in nicely and felt firm even without the holding screw. Enough light at night to know where the furniture is and almost lights everything in the room. I bought 5 to begin with, and am now ordering 3 more. I have them in each hallway, on each side of the master bed and in the living room for when we turn off the last light in that room for the night. No more playing "light train" as I called it, having my wife turn on lights as she found them and me turning them back off as I followed on our way to bed each night. You wouldn't even know there is anything there - it looks just like the normal outlet cover. The 3 that I ordered just now are for the garage, guest bedroom and guest bathroom. ... Plus, I like to support independent ideas that people come up with. Great product, fills a need. Good job, whoever came up with this.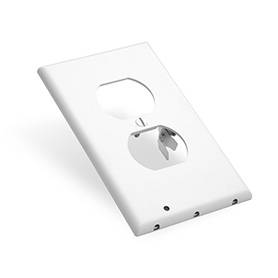 Installs in seconds, no wires no batteries

LEDs last up to 25+ years
Installs in seconds, no wires no batteries

LEDs last up to 25+ years

Softly Diffused Light bar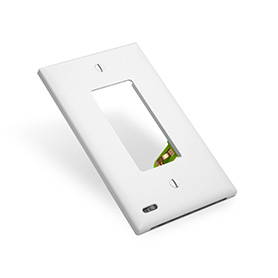 GuideLight 2 PLUS for GFCI
Installs in seconds, no wries no bateries

LEDs last up to 25+ years

Softly Diffused Light bar

Designed for GFCI Outlets